It seems as though August is going to be a very busy month. I am excited things are picking up a little, although I'm sure I will talk about my dog days of summer when I did whatever I wanted...and had time to do it! I went on campus yesterday for some supplies and it will be good to be back.
I'm starting to substitute teach for a lot more classes and am really enjoying it. I taught my first full Hatha Yoga class yesterday and in the middle, I started to panic. At that point, I wasn't sure if I had enough poses planned to fill the class time! Luckily, I was able to push through and the class went well...without a hitch even! One of the participants let me know she enjoyed the class and new poses. It's great to be validated! When I teach Power Yoga next week, I'll have to be sure to be prepared for that one...time to consult with my Dad's Rodney Yee tapes. Ha! Next Wednesday will be the litmus test: I will be teaching 5 classes in one day. 2 spin, 2 pilates, and one pilates/yoga fusion. Wish me luck!
I also have a Zumba demo today and I'm super pumped about it. I worked with my boss on Zumba on Wednesday and I think I blew her away. She's really nervous and unsure, but to me it feels just like the dancing at the clubs I used to go to, so it's natural. I never thought those days would reap any more than a buch of good stories to tell about wild times. Who knew!
After band practice last night, my roommate and I decided it would be a good idea to go out. A local bar was having ladies night...$.50 drinks. ALL DRINKS. The place was packed, but it was definitely good people watching. When we got home, we sat on the kitchen floor and ate leftover pizza and worked on song lyrics. It was awesome. One song was about cats licking their butts. In this way in particular...I call it 'playing the cello'.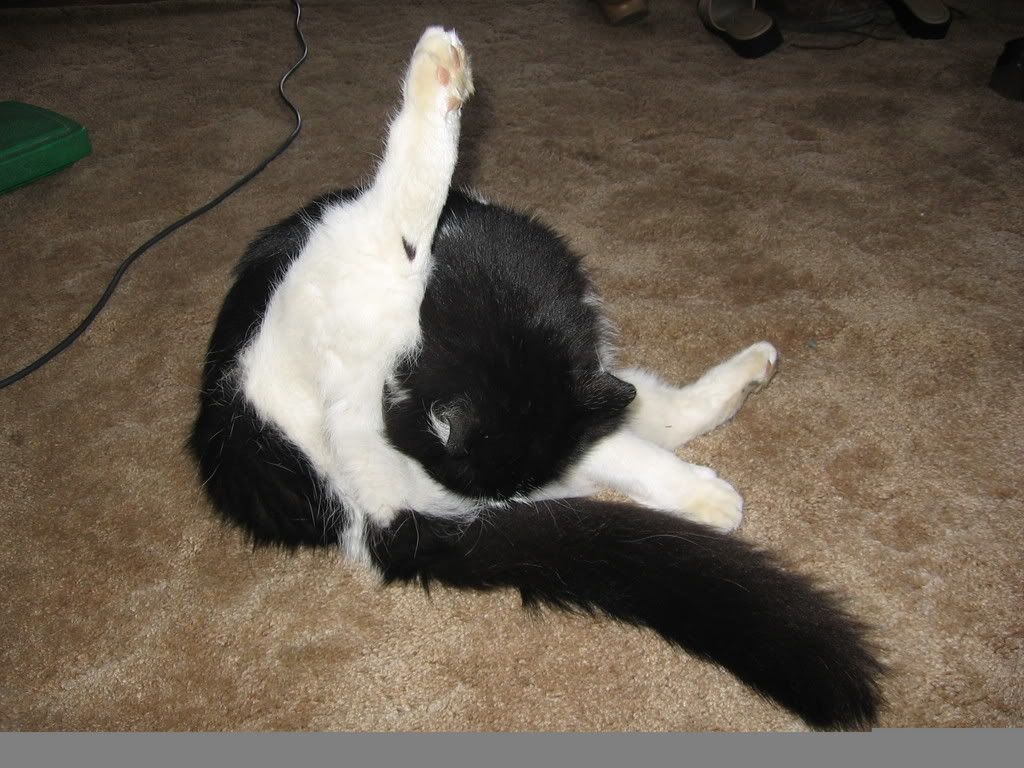 I don't think that one will ever make it to a record. What do you think? The one thing I know is there's nothing like drunken songwriting...nothing!
Other than that, our big gig is tomorrow and I'm excited...but I have no idea what I'm going to wear. I have a feeling I will be bringing several outfits tomorrow just in case. Sometimes I feel like a vain monster, but hey...I'm performing in front of lots of people. What I'm wearing is of great importance!